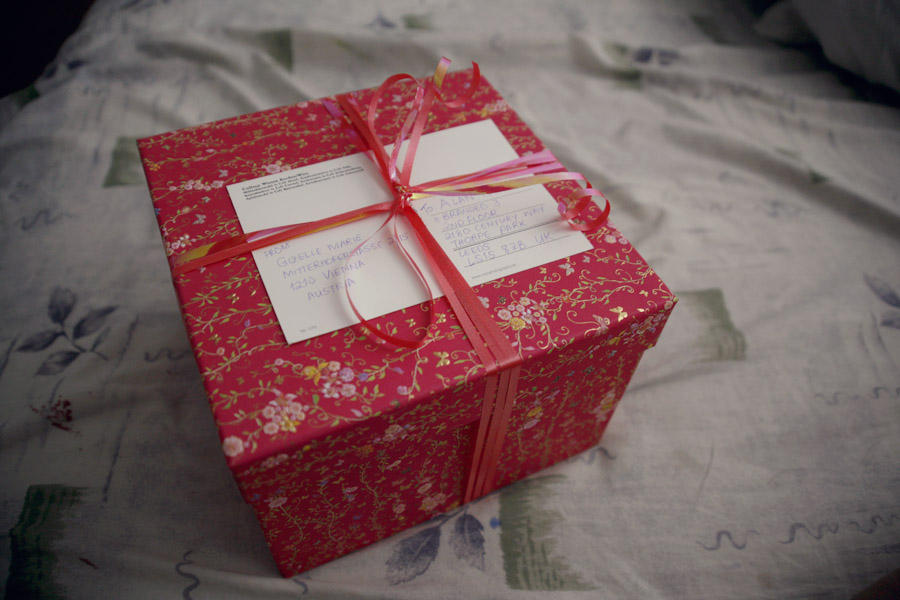 Close friends know how bad I am when it comes to packing things or organizing stuff, whether my luggage or even my bookshelf. I'm so bad at wrapping gifts and I'm not even good at plastic-covering books. Yes, my husband does that for our kids' books. 😀 So I was really proud of myself when I was able to do this ribbon-tying on a red box I was supposed to send last Saturday. Supposed, yes, because I was so happy how it turned out, although it's a box I bought not made…I wanted the recipient to receive this as such. I happily went to the post office, gave my box to the friendly attendant and I was asked if I wanted a special packaging for it.
I gave a confused look because the lady in front of me laughed. She said that this box might not survive when I send it as is so I either pack it up neatly or put it in another box. :/ Now why didn't I think of that. I've been receiving lots of boxes from the postman and they would usually come dented…well, yeah that explains it, getting thrown here and there. So I went back home that Saturday with a heavy heart. Gosh, and I already tweeted that I'm sending this red box off.
Anyway, I asked the hubby to take it to the post office for me, have what's best for it – a bigger box, a brown paper or bubble wrap it before putting it in a box…I don't know. I just hope this box arrives safely and intact. Made me realize that I should have instead used an online delivery service I blogged about here. LOL! Well, they say it's the thought that counts. I'm counting on that!