My son's class went to a trip to the cinema some time ago and I didn't bother asking him then what the film would be. That day, he came home excited and told me about Arrietty…he said that it is a Studio Ghibli film because he saw Totoro from the movie opening and that the characters resemble those from Whisper of the Heart. They watched it in German so he understood it well than he did Totoro and other Studio Ghibli films which we would watch in the original language, Japanese, with English subtitles.
He requested that we watch it again and in Japanese…because I always tell my kids that a movie is best watched in the language it originally is.
Adaptation
Arrietty (titled The Borrower Arrietty (Kari-gurashi no Arietti) in Japan and The Secret World of Arrietty in North America) is based from Mary Norton's fantasy fiction novel The Borrowers, a story about tiny people who lives (and hides) in "human bean's" homes and borrows things and food in order to survive. The film was directed by Hiromasa Yonebayashi, his feature film debut, written by Hayao Miyazaki and Keiko Niwa.
Characters
The main character is Arrietty, a 14-year-old brave and spirited Borrower and the only daughter of Homily and Pod. Arriety is often seen clad in a red dress, boots with a sling bag and hair clamped by a clothespin. She also has a sewing pin  stuck on her waist like a sword. She uses this to defend herself from attackers…like cockroaches and grasshoppers.
The borrowers live under a country house owned by a spinster. She has a soft-spoken nephew named Sho coming over to relax and prepare for a heart surgery. We are given a glimpse at the life of the borrowers; how detailed their house could be, the lush acrylic work that we know of other Ghibli movies; how content they are in finding leaves they can use to flavor food or make into tea.
By Arrietty's first attempt at borrowing we saw how well-equipped they can be, traversing the chaotic underground, jumping from one nail to another and how good of a mountain climber, trekker and strategist they could be using duct tapes and fish hooks. It was also then when Sho saw Arrietty as she was getting a piece of tissue paper. This begins his wish to protect them but instead, without meaning to, creates chaos for them. As the borrowers live by the creed that no one of them may allow himself to be seen by a human being, Arrietty and her family must move away to avoid being seen further. This is especially so because the house maid, Haru, would do anything to capture them even hiring pest exterminators.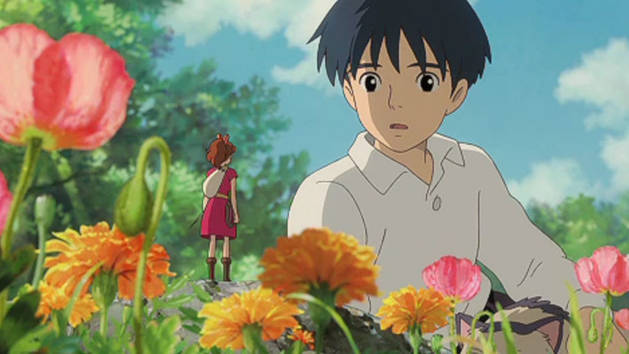 Another Work of Art
Story-wise, Arrietty may not be as intense as  My Neighbor Totoro or Howl's Moving Castle which were also adapted from a book. Visually, Arriett is as magical as other Studio Ghibli films were. The garden landscape; the trees, different colored leaves, flower field with muted pastels is so picturesque and is a perfect background for the characters. It's the incredible attention to detail and scale that draws your attention to the neglected beauty of nature; ants crumbling off a sugar and taking them away in line; raindrops falling off leaves and those long shots of Sho in the flower field with his cat.
The borrowers tinee-tiny world is also amazingly detailed and despite being a fantasy film, it's believable.  Those with interest in dollhouses will appreciate this especially the little house that Sho's grandfather had custom-made for the borrowers he saw when he was a child.  The creators of the film were accurate in showing the scale of Arrietty's world against the human beans with even the background sounds becoming louder to the tiny people.
The quiet scenes that we find Arrietty and Sho to be in, though as bittersweet as the unexpected ending, will show how fragile the lives of other creatures around humans could get. Kids and kids at heart will be delighted to watch this slow-paced film and feel sorry for the borrowers while annoyed with Haru who was only curious about the tiny people borrowing what is in excess at their massive kitchen.
Movie Music
The film score of Arrietty, which is in itself magical and not the traditional orchestral pieces like those of previous Ghibli films, was composed by French musician Cécile Corbel. She also performed the film's theme song, "Arrietty's Song", in Japanese, English, French, German, and Italian.
The Secret World of Arrietty is a visually captivating, magical look at how creation and its inhabitants affect each other, how they can actually live harmoniously but circumstances would not allow it. Told with the talent of a true genius, Arrietty is a must-see!